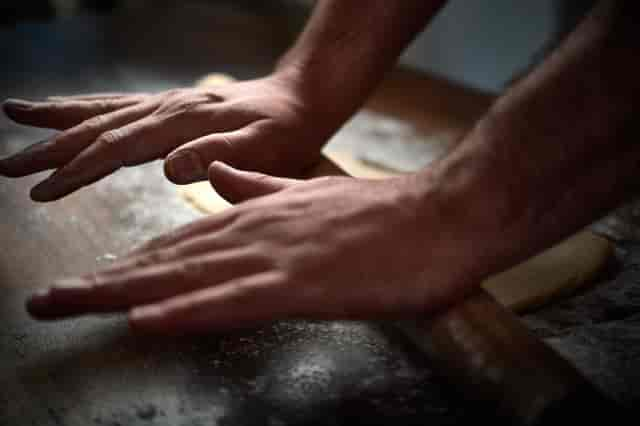 Pop-Up Dinners and Events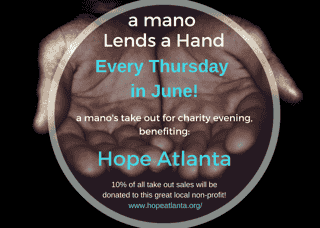 UPCOMING POP-UPS and Charity Nights
Every Thursday in June:
a mano "Lends a Hand" charity fundraising evenings
Each Thursday in June, a mano will donate 10% of all sales to the local charity for the homeless, Hope Atlanta. Please join us for you favorite take out food and beverage every Thursday to help raise money for the homeless of Atlanta. More info at:
www.hopeatlanta.org


SUNDAYS:
Barbecue Pop-up with PHO CUE!!!
11-5pm (or until sold out!)
Bar set up for beverage purchases by a mano!
@eatphocue

MONDAYS: (every other week)
June 1st, June 15, and June 30th
Latin Plant Based Pop-up with HAPPY SEED
Hours vary - check with @happyseed on ig for updates!
Feb. 16th - Shay Lavi Family style Israeli/Turkish Dinner Feb. 23rd - Philips Barbeque w/ chef Rasheed Philips Mar. 1st - Kettle Black and Seoul Chikin Collaboration Dinner Mar. 8th - The Chef's Palette - Brunch for Dinner Mar. 15th - Happy Seed - Vegan Dinner Mar. 22nd - Ry's Table and Foodcation Forever Collaboration Dinner Mar. 29th - Kamayan Atl - Communal Philippine Dinner
If you are interested in hosting a pop-up at a mano, please reach out to us directly at [email protected] Our pop-up dinner concept was created to support the local chef community here in Atlanta while bringing a mix of cuisines to the a mano community. Interested parties are not limited to chefs with restaurant experience. We are open to new, aspiring or established chefs - DON'T BE SHY!