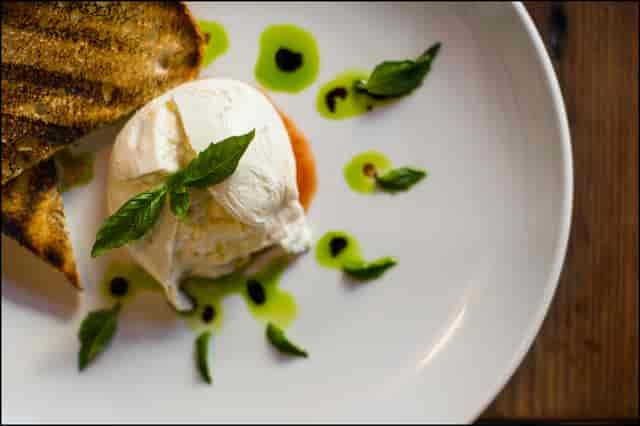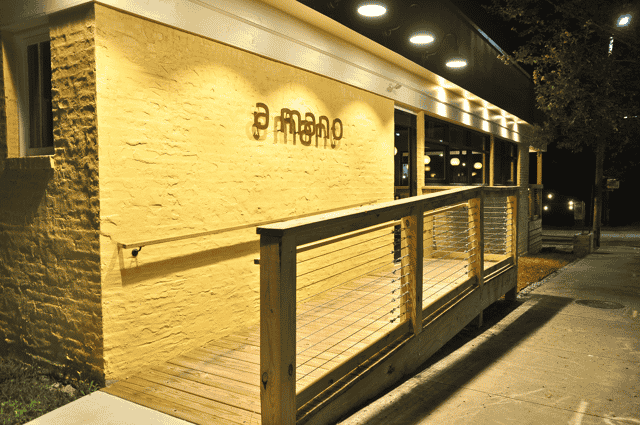 Wine List
Become a VIP
Receive updates on special events, new menu items, menu reviews, and more!
Wine List
Reds
* natural, organic, sustainably grown, biodynamically farmed
** All wines have been discounted 20-60% off during this time! **
Reds
NV Barbera, Alessandrino Vino Rosso 32
Bold, soft tannins, earth, oak
*2018 Langhe Rosso, Luigi Giordano 28
Cherry, plum, floral, fresh herbs, earth, fresh and approachable
*2017 Chianti Classico, Roberto Stucchi, Badia a Coltibuono 23
Spices, leather, moist earth, dried fruits, balanced acidity
*2015 Nerello Mascalese, Etna Rosso, Pietradolce 44
Cherry, raspberry, ripe tomato, balsamic, juicy and round, mineral, herbs, tobacco
2014 Touriga Nacional Red Blend, Quinta de Ramozeiros 38
Oak, earth, spice, soft tannins, well balanced
2016 Mencia, Bierzo, Tilenus 34
Savory, fresh fruit notes and hints of tannin that offer personality and elegance.
*2017 Cabernet Franc, Friuli Grave, Le Monde 27
Herbaceous, rich red fruits, clove, pepper
2018 Salento Primitivo Orion, Li Veli 32
Dark cherries, spice, powerful and smooth
2017 Langhe Nebbiolo, Giuseppe Cortese 46
Well structured, fine-grained tannins, lively acidity, dried red cherry, plum, cola and sweet spice, long finish.
2016 Pinot Noir, La Closerie des Lys 40
Dry, bold, high acidity, bright red fruit, earth
2018 Gamay, Chiroubles, Domaine Chapel 44
Fuller bodied, ripe acid, rich cherry and raspberry fruit, spice
2016 Malbec, Mendoza, Argentina Vista Flores, Bodega Catena Zapata 20
Black fruits, leather, spice, bright acidity
2018 Red Blend, La Chaussee Rouge, La Grange aux Belles 32
Misty cool fruit flavours of cherries, well balanced, sweet and sour and a touch of earthiness
2018 Montepulciano Blend, Mercato, Carne 17
Mineral and chalk dust covered cherry, raspberry, black plum and brambleberry, earth floor, clove, light wood
2017 Dolcetto D'Alba, Palladino 32
Delicate, pleasantly almondy, moderate acidity, well-balanced
2017 Valpolicella Ripasso Classico Superiore, Luigi Righetti 39
Black cherry, raisin, spice, earth, smooth tannins
2017 Barbera d'Asti, Tre Vigne, Vietti 38
Fresh, juicy black cherries, currants, herb, acidic backbone, rustic finish
*2018 Mencia Blend, La Senda, Jose Pastor 32
Deep purple and red plum, ripe cherry notes, and soft powdery tannins
2017 Toscana Rosso, Altesino 39
Forest fruits, cherries, plums, well balanced
2016 Rosso di Montalcino, Donatella Cinelli Colombini 52
Crisp, moderate acidity, silky tannins, crushed rocks, violets, red cherries, licorice notes, and some roasted herbs
2015 Valpolicella Superiore Ripasso Ca' del Laito, Tommaso Bussola 45
Cherries, red berries, black pepper, rich, juicy, structured
2015 Langhe Nebbiolo, No Name, Barolo, Giacomo Borgogno 65
Dried red cherries, oak spice, tobacco, menthol, crushed rose petals
2015 Barbaresco, Produttori del Barbaresco 72
Rose petal, ripe cherries, dark spice, licorice and tobacco
2011 Brunello di Montalcino Riserva, Fattoria La Lecciaia 69
Cigar box, mature dark cherries, sweet orange, silky tannins
2015 Barolo, Bricco Delle Viole, G.D Vajra 99
Plum, cherry, iron, tobacco, menthol, spice, lush texture, broad tannins
*2014 Brunello di Montalcino, Fattoria del Colle, Donatella Cinelli Colombini 101
Cherry, blackberry, licorice, dark spice, elegant finish
2017 Super Tuscan, Le Cupole, Tenuta di Trinoro 64
Fleshy bright cherry, violet, black fruits, pepper, tomato leaf, balsamic, spice, mineral, floral, well-integrated acidity
2016 Amarone della Valpolicella Classico, Remo Farina 72
Lush berries, spices, brown sugar, vanilla, cocoa, dried fruits
2015 Amarone della Valpolicella, Zenato 71
Crushed berries, fudge, vanilla, confectionery bliss
Whites
* natural, organic, sustainably grown, biodynamically farmed
** All wines have been discounted 20-60% off during this time! **
2018 Garganega, Soave Classico, Inama 31
Field flower, almond, pleasant minerality
2018 Pinot Grigio, Südtirol-Alto Adige, Kellerei - Cantina Andriano 40
Fresh, juicy, rich pear, apple, foral, crisp acidity and elegance
* 2018 Verdicchio dei Castelli di Jesi Classico, Lucchetti 31
Dry, vibrant, peaches, apples, apricot, bright citrus , saline mineral notes
2018 Vermentino di Sardegna Costamolino Argiolas 28
Aromatic wild flowers, citrus, ripe fruits
*2018 Sauvignon Blanc, Slovenia, Pullus 29
Fresh and intense, grapefruit, guava, gooseberries, herbs, white flowers, mineral
2016 Arbis Blanc, Friuli-Venezia Giulia, Borgo San Daniele 52
Stone fruits, wildflowers, soft and voluminous with smooth distinct mineral finish
2015 Soave Classico, Vigneto Du Lot, Inama 62
Fleshy fruity flavors, buttery, lemon, almond undertones, full bodied
2018 White Bland, Tasca d'Almerita, Regaleali 32
Light bodied, pear, white pepper, melon, fresh, crisp
*2017 Chenin Blanc Blend, Excile, Domaine Jousset 54
Medium body, crisp, round, apricot, citrus
2018 Assyrtiko, Alexakis, Crete 36
Bright, crisp, yellow plum, starfruit, mineral, saline, limestone & flint
2017 Fallegro, Vino Bianco, Gianni Gagliardo 26
Bold, dry, tree fruit notes, crisp, light acid
2017 Cococciola, Terre di Chiete, Ferzo 34
Light, bright acidity, earthy aromas of dusty gravel and chalk blend, citrus blossom, lemongrass, and bay leaf.
Rose & Marcerato (Skin Contact)
* natural, organic, sustainably grown, biodynamically farmed
** All wines have been discounted 20-60% off during this time! **
*2018 Trousseau Gris, Fannuchi-Wood Road, Jolie Laide 50
Wild pomelo, summer melon, stone fruit, white tea and sweet earth, finessed length & elegance
*2019 Rose, Queen of the Sierra, Forlorn Hope 38
Bright red fruits, balanced acids, summer
2018 Red and White Blend, Red, White, and Pink, Minimus 51
Red and white grape blend, flavors of stone fruit, berries, honeydew melon
2018 Barbera, Zinfandel Rose, Sierra Foothills, California, Forlorn Hope 32
Sparkling
* natural, organic, sustainably grown, biodynamically farmed
** All wines have been discounted 20-60% off during this time! **
2018 Moscato d'Asti, Cascinetta, Vietti 375ml 18
Intense, fresh and fruity, apple, peach, sage, balanced acidity
*NV Muscat, Chenin Blanc Pet Nat, Mosquito, Lise & Bernard Jousset 54
Exotic orange citrus, juicy pear, nutmeg, salty peach, honeycomb, tart acid, off-dry
*2017 Rose Pet Nat, Vegas Altas Ancestral, Cerro la Barca 42
Great tart raspberry aromas, stony minerality, beach shore
2015 Collita Brut Cava, Suriol 30
Bready and refreshing, showing flavors of yellow stone fruit, citrus, toast, honeyed undertones
NV Brut de Noir Rose, Emilia-Romagna, Cleto Chiarli 24
Strawberries, raspberries, apple, cherry, lively
2018 Lambrusco di Sorbara, Emilia-Romagna, Vecchia Modena Premium, Cleto Chiarli 36
Fresh, lightly sparkling, cherry and strawberry aromas, bright, mineral finish
*NV Champagne 1er Cru Extra Brut Solera, R. Pouillon et Fils 95
Fresh citrus aromas, white flowers, ripe, honeyed, candied apple, pear, peach, wild strawberries, round and delicate
*NV Franciacorta Brut, Lombardy, Animante, Barone Pizzini 62
Apple, pear, citrus, brioche, brilliant acidity, minerality, lingering finish
NV Vino Spumante Rose, Brut Cuvee, Jeio 26
dry, bright fruit, light minerality, crisp
*2018 Pinot Grigio Macerato Spumante, Furlani (Magnum 1.5L) 102
Super dry, tart strawberry, fresh citrus